Scrum is an all-inclusive framework, readily applicable to any industry. The scrum framework makes you an invincible force when it comes to project execution and successful delivery. You are a conduit of skills, experiences, and concepts that keeps a team grounded and well-directed.
As more and more companies realize this potential, obtaining a professional scrum master certification online bolsters your possibilities of quick career advancement.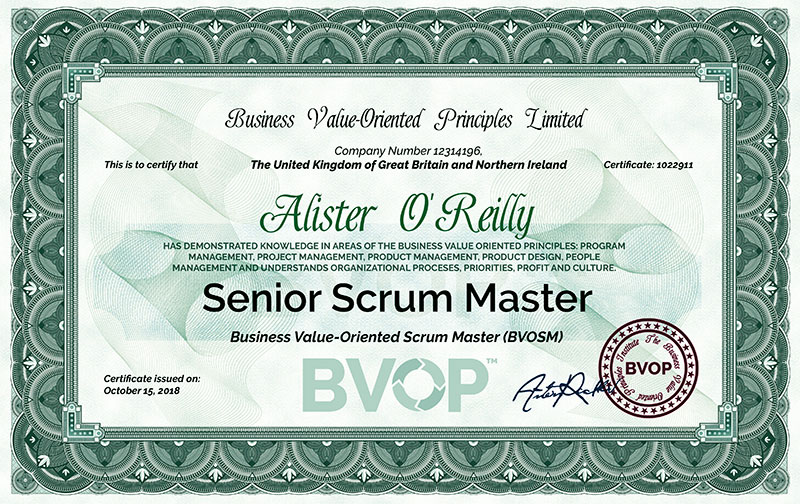 Scrum – what is it?
Scrum is a robust foundation that helps synchronize individuals of a team to implement different processes for different projects. In simpler words, scrum is the basis of teamwork, much like a soccer team. It coaxes the team to implement self-organization and to learn from experience, including both achievements and setbacks.
Read more: Advanced Certified Scrum Master Certification Training, scrumtime.org
Although the scrum in our discussion is more abundantly used for software development projects. The fundamentals, theories, and practice can be applied to all kinds of industries or niches. Scrum is a branched-out version of project management, only more flexible and perhaps acute. The framework is highly adaptive and uses a set of repetitive work processes termed as sprints. The scrum team, scrum master, and the owner of a product are the three leading roles in the main scrum structure. Lean more on CIO.com
Scrum Masters - who are they?
If you are new to the Scrum framework, for you, a scrum master might sound like a character conjured up from a fantasy novel. However, the real-world application is one of pure necessity. They are servants to the framework but leaders of the scrum team, two highly contrasting roles, but equally dependant on each other for existence- just like two sides of a coin. Also, professional Scrum Masters need to know details about the Kanban process. Read more: Kanban vs. Scrum: What Are the Differences Between Scrum and Kanban
Scrum Masters expedite the agile framework within a time-dependent boxed iteration- the sprint. They are responsible for training the scrum team and guiding a product owner to successfully execute a project. Due to a vast number of applications, it is impractical to confine the responsibilities guidelines under limited headlines because each business, product, and the team is unique with discrete needs and goals. In general, the scrum master acts as a team's project manager and an agility coach at the same time. Read more: How to become a Scrum Master?
What is a Professional Scrum Master certification?
The agile scrum framework has ripped apart the old school professional ideologies and pieced them back together into a more robust yet more fluid and adaptable system, where there is more room for success and learning. A professional scrum master certification equips you with the skills that are far more sharpened and powerful than a traditional project manager.
The professional Scrum certification sets you apart from the crowd, and trust us; the crowd is colossal and almost impossible to escape if not for this certificate. After obtaining the certification, you naturally become an asset to potential industries. Find more online programs on PGOV.org
Professional Scrum Master VS. Project Managers
While a project manager is perfect for tackling the why's of a team and product owner, they greatly lack in troubleshooting the how's. The more conventional concepts and mindsets tend to undermine issues, including conflicts, unknown variables, and potential hand-offs. That's asking for shoddy project delivery.  
A professional scrum master, on the other hand, fills in for all these loopholes with much ease. You are trained to manage and direct a team and ensure that the system is in a constant state of balance. When you obtain a professional scrum master certification online, you are more or less achieving a whole new form of professional nirvana.  
While a project manager is a more mechanical role, functioning from a place of boundaries, a scrum master, much like the agile framework, is fluid. You act as a collaborator, member, organizer of a team, all at the same time. The key is that the project managers have more defined roles; however, a professional scrum master can multiple configurations on occasion, and none in the other.
Why should you consider getting a professional scrum master certification online?
A professional scrum master certification proves that you are well-equipped with the knowledge and skills to serve as a directional entity. You are capable of leading a team to champion any and every agile project. Here are a few more reasons why you should consider getting a professional scrum master certification online:
Efficient application of scrum 
You might be a scrum amateur or perhaps an expert; no matter the raw skill set you possess, a professional scrum master certification stretches your understanding od the framework to help you overcome obstacles that initially seemed impossible to deflect. The advantage is more profound when you manage a larger team and across several segments of an organization.
Work and learn
Obtaining a professional scrum master certification online enables you to reap the best of both worlds. While you are learning to implement your understanding of the scrum framework in more efficient ways, you can also maintain a steady income.
Impeccable career advancement 
Obtaining a professional scrum master certification online can be one of the most reliable methods of expanding your career prospects. As a certified professional scrum master, your skills and knowledge are more relevant to the industry, which makes you a fierce competitor when compared to other managers. The certification also opens up an almost instantly more massive incentive in terms of monetary satisfaction.  
Bolster your team management and collaboration skills
A professional scrum master certification equips you with better strategies to utilize the scrum framework to enhance teamwork, motivation, direction while working on an agile project. It gives you an edge because you are invariably the better candidate with more chances of leading the team and the product owner towards successful execution.
What the professional scrum master certification online process?
Considering how unbeatable a professional scrum master certification makes you, the requirements are minimal. However, it is essential to note that the process of getting professionally certified as a scrum master is nominal; you need dedication and practice to achieve this qualification successfully. Here is an overall list of requirements 
Take a professional scrum master certification online course. For the first level of the assessment- PSM I, sitting through a course, is not mandatory. However, if you want to ensure that you pass the evaluation, the course will cement your chances for a positive outcome.
The assessment for professional scrum master certification is anything but easy. Skimming through the scrum guides or taking up a few practice assessments is not the best way to prepare. The only foolproof way is to go through all the resources available online along with the course, which hardly lasts two days. Read more: Professional Scrum Master vs Professional Scrum Developer, STC Montreal, Society for Technical Communication
What are the components of online course?
The professional scrum master course prepares you to implement the advanced strategies as a servant-leader, notice the behavioral shifts, and mitigate conflicts based on what the scrum framework professes. The course will teach the following:
Basic scrum concepts and fundamental theories 
Understanding the agile scrum framework 
Gaining experience by leading a scrum project 
Learning leadership and teamwork qualities 
Implementing the Scrum framework in the industry of your choice when working on agile projects.
Understanding the complete dynamics of your role as a scrum master
The Passing Grades of the Professional ScrumMaster certification online.
The first assessment- PSM I constitute eighty questions that need to answer in a span of an hour. The passing criteria from PSM are not easy. You need to achieve a minimum of 85 percent accuracy on the test to obtain the certification.  
Test Format
The Professional scrum master certification online exam is a blend of multiple-answer, multiple-choice, and true or false questions. You are essentially tested on the main concepts and hard facts of the scrum framework, along with some experience-scenario questions.
The Cost
The Professional scrum master certification online assessment costs around $150 per attempt. However, if you choose to join the training course, you receive a free entry into the test.
The Three Levels Certification
The creators of the scrum framework, scrum.org, offer the professional scrum master certification as a three-stepped ladder:
Professional Scrum Master Certification Assessment 1 [PSM I]- helps you understand the Scrum framework better.
Professional Scrum Master Certification Assessment 2 [PSM 2]- enhances your understanding of the main concepts and their application into real-world scenarios
Professional Scrum Master Certification Assessment 3 [PSM 3]- proves your deep understanding of all scrum practices and gives you the ability to integrate your vast knowledge to solve complex issues within a team and the organization.
Conclusion
The professional scrum master certification has become one of the most potent career advancement networks. The certification gives you lifetime access to a vast cosmos of knowledge, skills, and mindset to direct a team towards successful project delivery. As a scrum master, you help your company realize the serious rise in the chart that your dexterity brings. You are not just an asset. You become a high functioning professional who keeps the team and the organization as a whole; you keep the system running flawlessly.
Below we share our short interview with Julia, who enrolled in the Certified Scrum Master course.
Why do you want to be a Scrum Master?
What motivated me and attracted me to Scrum Master is the role it fulfills. The Scrum Master is not a manager who monitors metrics and statistics and does not directly manage people but leads continuous communication which I would define as the "link" between the Development team and the company's Management.
This is a role that monitors the correct execution of tasks and supports the team in case of difficulties. I want to be a Scrum Master precisely because I have good communication skills and teamwork comes first. Read more: "The Scrum Master answers the questions of confused colleagues about Scrum", https://managerspost.com/the-scrum-master-answers-the-questions-of-confused-colleagues-about-scrum/
What expectations do you have from being a Scrum Master?
I expect to correctly apply the Scrum framework and to support the correct execution of all tasks. Also, if any difficulties arise, I will be notified at any time so that prompt action can be taken. To motivate the team I work with to share ideas, suggestions, concerns, and difficulties.
What are the things that bother you at this stage?
The many terms bother me at the moment.
What problems will you have in your work?
What I think will be a problem at work is the implementation of the Scrum process. In theory, it sounds great and very easy, but in reality, as described in the module, for the successful development of a product, whether it is software or something else, the team and the knowledge and experience they possess are of utmost importance.