Organizations have different opinions when it comes to whether project management certifications are essential, but the consensus appears to be that they make a marked difference.
Starting in the 1960s, agile methods crept into project management but there was no true successor to waterfall-style project management. There were several attempts at alternative approaches, but it was not until Agile Frameworks gained mass adoption in the early 2000s that we started seeing a shift away from the waterfall as the default approach.
Get Your Project Management Certification Today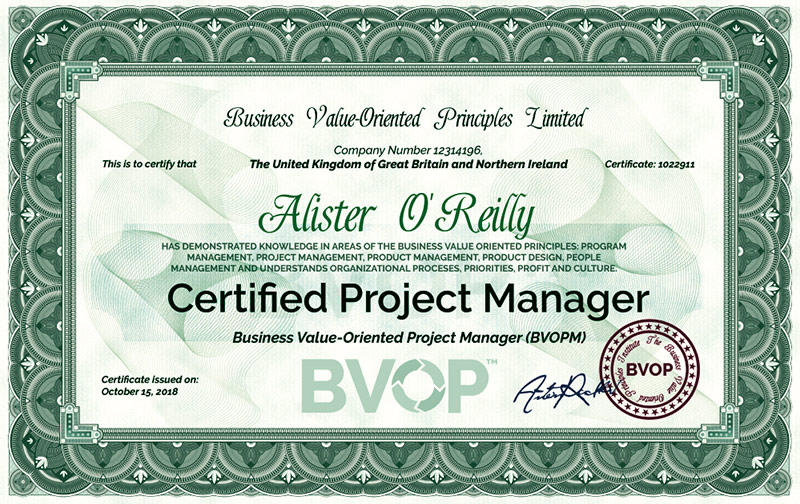 Get your PM certificate quickly and easily with just an online test.
Create an account on the BVOP website and get three free mock exams. Test your knowledge for free and save money before you buy the certification exam. Try the mock exam now!
Technology and businesses have gone through a metamorphosis in the past few years. As such, organizations are now more likely than ever to require certified project managers who can manage ongoing projects, regardless of their nature (software development or physical boundaries).
The type of certification determines how the skill set is applied.
The importance of project management certifications
Project development can be broken into training modules. The average certified project manager has undergone various types and units of development, with each one a module in its own right.
Project management certification will eventually allow the project manager to manage a variety of challenges and preset tasks which will help increase the flow of the business industry.
Based on IT project management certifications such as Agile, Scrum, or PMP modules, a certified manager will be able to supervise an entire workforce accountable for completing a milestone.
These project managers are Scrum Masters and Product Owners sometimes who monitor sprints within the organization.
When it comes down to project management, you will need certifications to get the position that is needed.
Without a formal certification, you will not be adequately prepared to handle the workload of your managerial role.
The 18 Best Project Management Certifications and courses of 2023
A lot of organizations in the IT sector took action as soon as 2023's second quarter came to an end, and almost all of them are now offering their project management certification programs online. The majority of the companies had also hired a Certified Associate in Project Management or an experienced Project Management professional.
Get Your Project Management Certification Today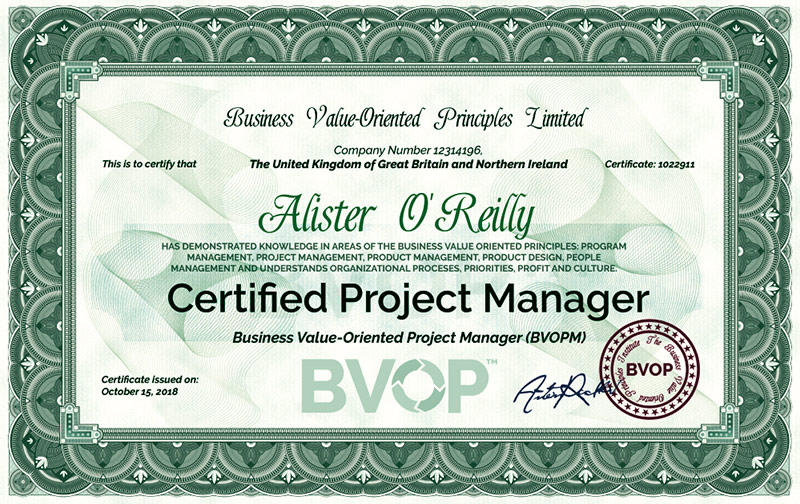 Get your PM certificate quickly and easily with just an online test.
Create an account on the BVOP website and get three free mock exams. Test your knowledge for free and save money before you buy the certification exam. Try the mock exam now!
The downturn in project completion rates and client satisfaction has led to significantly fewer organizations wherein the management has shifted towards a more contemporary approach.
Please see below for the pros and cons of some certifications that provide a good foundation for Project Management.
BVOP Certified Project Manager
This project management certification program has only been around for a few years, but it is quickly gaining popularity in the UK. The Business Value-Oriented Principles (BVOP) Certified Project Manager Certification is based on agile framework principles and emphasizes business success.
BVOP Certified Project Managers offer benefits to individuals from a variety of occupations. The certification will help those who work in project management, process building, and other relevant fields.
In the Business-oriented project management certification, you will learn business-oriented project management and how it intersects with other disciplines such as program management and product management. You will also develop key skills for making quick decisions related to a project.
One might not need to have completed prerequisites for the BVOP Project Management certification, but one will need a basic understanding of project management terms and techniques.
Organization: "Business Value-Oriented Principles"
Website: https://bvop.org
Price: $130
PRINCE2 – Projects in Controlled Environments
The PRINCE2 program is an advanced degree course in the tier of project management courses.
For your exam to be accepted, you will have to meet a few criteria. While this is not bad news, it does mean you will have to clear a few prerequisite milestones.
The PRINCE2 certified experts are highly respected in their field. Expected but not limited to validating employees, core project management skills, and concepts of IT project management lifecycle, all these individuals are also expected to have the tools for business development.
PRINCE2 Certification Requirements
PRINCE 2 is one of the top-level project management certifications. To earn it, you need to meet a few requirements. When it comes to submitting your paper, you should be aware of the following requirements:
Any of the following: Certified Project Management Associate Certification, PRINCE2 Foundation Course, and PMP Project Management Professional Certification.
If you have not yet cleared your respective PMP/CAPM certification, we recommend going for the easier courses. For those interested in the PRINCE 2 certification, you need to have some sort of qualification that makes you eligible for the exam.
Project Management Professional (PMP) Certification
As project managers, it is essential to have a grasp on all three constraints - Scope, Cost, and Time.
Modeling your project's weak spots is a challenging task, but this course will help identify them.
As a result of the team successfully finishing the test sprint phase, the project manager can brief his/her team to come up with alternatives for completing that milestone. Eventually, this will lead to achieving all milestones toward a deliverable product. Reference: "Top 40 Project Management certifications for 2022 and 2023", https://scrumtime.org/top-project-management-certifications/
The Project Management Professional (PMP) certification from the Project Management Institute is continually updated to meet rapidly changing industry demands.
Project Management Professional (PMP) Requirements
Either 3 years minimum experience in the project management field, or Education equivalent to that of a Bachelor's degree
If you have at least 5 years of experience as someone who coordinated projects in PM-related areas or 7,500 hours of equivalent experience performing the functions specified under the definition above.
In addition to 35+ hours of project management education, qualified personnel is certified as well.
Certified Associate in Project Management (CAPM)
As has already been mentioned in this post, the CAPM is one of the three basic-level IT project management certifications. High-tier certifications have prerequisites but are also demanding.
The PMI also administers the CAPM. It is an entry-level certification that offers a great learning opportunity for beginners.
Certified Associate in Project Management (CAPM) Requirements
This certification has very few prerequisites. Candidates with at least a high school diploma or equivalent experience in project management can apply.
For those who do not meet the two aforementioned "requirements" all that remains is to complete a minimum of 23 hours of cumulative project management education.
The International Association of Project Management has made examination studies and updated certification study courses available for those interested in the Certified Associate in Project Management (CAPM) credential.
The Certified Associate in Project Management Exam, which is the entry-level credential for project management, can be taken at an exam cost of $225 for registered PMI website members.
For non-Members, the test fee will be $300. Membership fees are not refundable after they've been processed.
Certified ScrumMaster (CSM) – Agile Project Management Certification
The Certified ScrumMaster certification (CSM) enables professionals to oversee a team of individuals that whom the assigned product owner is ultimately responsible.
The Scrum Alliance is a globally recognized self-certifying institute and was created to promote an Agile mindset in the software industry.
The CSM is a jump-off point for practitioners of basic-level Scrum who want to go higher.
The latest statistics show that there are over 450,000 Certified ScrumMasters around the world. Most of these individuals have only been certifying themselves on Agile Project Management Certifications since 2000.
Scrum Alliance is a nonprofit organization that focuses on agile projects in the IT industry. Given that The Scrum Alliance is a nonprofit organization, you may think the organization does not charge hefty fees. The training course spans two days, followed by the test.
Certified ScrumMaster (CSM) Requirements
Basic knowledge of Scrum and Agile is required for the Certified ScrumMaster program. You can learn more about the requirements of becoming a Certified ScrumMaster by completing the introductory module on The Scrum Alliance website.
CompTIA Project+ Certification
CompTIA Project+ is a project management certification that does not require much preparation time, making it an alternative for those who are looking to spend less.
The CompTIA Project+ certification is just as competitive as the Certified Associate in Project Management (CAPM).
CompTIA Project+ professionals are in charge of aggregating feedback from respondents, government representatives, and research institutes.
More experienced professionals know who to turn to for a challenging project like yours.
CompTIA Project+ and other service-related certifications are accredited by CompTIA. CompTIA Co. is a different kind of organization that doesn't have the same shared values as PMI and The Scrum Alliance.
"CompTIA Project+" certification program fee is $285 and you can also get experience with a CompTIA-recognized training program.
Agile Certified Practitioner (ACP) Certification
PMI once again manages the Agile Certified Practitioner (ACP) as well. This certification is appropriate for companies that strictly follow an agile mindset. "Agile" is difficult to describe precisely.
The PMI instructors provide a brief overview of Agile through a top-down approach. The certification takes a practical approach by providing different modules of training with Agile frameworks.
There are many agile frameworks, including the widely used Scrum. Scrum is a specific approach to getting things done, but it can be related to Agile methodologies. It's also called a subcategory of Agile.
Certification as an ACP (Agile Certified Practitioner) is a globally recognized achievement. Students take an Agile course to learn about different tools and methods for dealing with tasks.
The PMI (Project Management Institute) administers the Agile Certified Practitioner and other certifications to help aspiring project managers of all backgrounds. Reference: Top 13 project management certifications for 2023, CIO.com
Agile Certified Practitioner (ACP) Requirements
ACP certification is a "higher level" of the Agile Certifications.
To take the ACP exam, you need to meet these requirements: Must have a high school diploma or equivalent experience, as well as two years of work experience in an agile environment that demonstrates consistency and reliability. In conclusion, you need more than 2,000 Work Hours of Experience or a Cumulative 2,000 Hours of Work Experience.
Obtaining recommendations from people in the private sector with experience managing large-scale projects and products is a good way to clinch your enrollment for the PMI ACP program.
If you've already registered at pmi.org, then enrolling in the ACP is $40 less. Or if you're not currently a PMI member, enrolling in the ACP and becoming a new-member member will save you $495 in total cost.
Signing up for the Project Management Institute means you can pay $135, and receive a $60 discount on all certifications, as well.
PMI offers extensive support for students and a break from the registration fee by incorporating online freebies that help them get comfortable. Occasionally, they introduce "dumps" with the previous year's examination questions and lab exercises to make these courses feel like home.
Certified Project Director – CPD
CPD certification is the highest managerial management level qualification in project management. Although it's easy to register for the CPD exam, it's very difficult to find an accredited institute.
As a Project Director, you are required to maintain your certification by taking field hours.
Or: As a Certified Project Leader, you need to take and maintain each certification by completing a predetermined number of hours in the field.
Also, training sessions with staff still count as an added plus point. CPD includes two modules - formal CPD and informal CPD
CPD modules should not be confused with one another. A CPD Professional is someone who has earned structured education, an appropriate certificate, and appropriate documentation for this certification.
Professional continuing education is different from personal enrichment. Professional curriculums in a field of expertise, structured educations, and documentation for the particular certification show that someone is qualified to be called a professional.
Regardless, CPD is a prestigious certified project management course. As much as taking this course can be challenging, qualified CPD personnel is rewarded with equal employment and salary-related opportunities.
Certified Project Director Requirements
CPD is accredited by the GAQM, which requires strong knowledge of principles and methodologies in project management. In addition, hands-on experience over years of directing projects demonstrates your abilities to know how to handle a project efficiently.
Certified Project Manager – CPM-IAPM
Certified Project Manager – CPM has existed for over a decade since when September 11, 2001, terrorist attacks rocked the foundations of America. During this time is when the governing body released its Certified Project Manager course due to unforeseen circumstances.
Besides buildings and other physical devastations, the attack also affected business infrastructure, which necessitated certified project managers for benchmarking skills through hands-on experiences.
This certification is globally recognized by project management training institutes following its adoption in 2001.
Certified Project Manager Requirements
CPM and CPM-IAPM are less complicated to complete. There is no prerequisite other than taking a three-day training course.
Professional in Project Management – PPM
Professional practitioners of project management are encouraged to pursue the certification qualification, but this option is not as desirable for new professionals.
Regardless, Professionals in Project Management (PPM) is a counselor for students who are taught various skills.
A certified PPM professional should be able to demonstrate knowledge of resource allocation, quality delivery, and maintenance with minimal risk, effective communication skills, and the ability to bring change.
Just like CPM (Certified Project Manager) training, risk and crisis management are included with the Professional in Project Management Certification.
Professional in Project Management Requirements
In contrast to other certification programs, the Project Partners in Management (PPM) credential does not require that you have a college degree.
Candidates should have at least 2 years of project management experience to be eligible to take this certification exam. If they don't have any experience there are alternative options for meeting the eligibility requirements which include courses and scores.
Master Project Manager (MPM)
Project management is a cross-industry process that is used in all fields from health, telecom, and chemical to energy. MPM is designed for professionals who want to be more productive at work.
The MPM primarily focuses on professional project managers, but also helps those in technical and business management roles.
MPM is one certification for IT professionals that helps them earn additional points when they are within the project management domain of their companies. It provides a simple and effective training environment for qualified engineers by defining and associating the teachings of engineering with this course.
Professional in Master Project Manager Requirements
Graduates with 3 years or less of project management experience are eligible to waive this certification
Applicants with a Masters's Degree who have done at least 3 years of relevant work experience are also eligible for the waiver.
Three years of training and project management experience make applicants eligible for waivers who hold a Masters's Degree and have more than 3 years.
Associate in Project Management (APM)
The APM certificate is a beginner-level certification for projects in the discipline of project management.
Holding a project management credential is more than just an accessory. The credential is globally recognized in the field of project management and it demonstrates that the candidate has gained knowledge within this scope.
You must answer 35 of the 50 questions on the exam correctly in 1 hour to pass the exam.
No prior education or experience is needed.
Certified Project Management Practitioner
After the EC-Council was founded in 2001, it became apparent that there were key post-disaster skills that weren't being properly addressed. As a result, the CPMP certification was created as an industry benchmark for those with the knack to manage these types of operations.
Professionals who have earned a Certified Project Management Practitioner certification are prepared for the variety of challenges that come with managing infrastructure development, managerial obstacles, and leadership hurdles.
Though it is not on the same level as a high-tier degree or license, working hard to obtain this certification can serve as an excellent opportunity for someone who wants hands-on experience.
But when these are all combined into one, the experience, traits, and skills of an individual become collectively more valuable.
Certified Project Management Practitioner (CPMP) Requirements
The requirements to succeed in the CPMP exam are reasonably simple. There are no prerequisites for this certification. The exam itself costs $200, which is not refundable. Different CPMP training companies offer an accelerated course for 2-3 days. They charge a large fee for the courses, so save money in advance by allotting a generous chunk of your budget to cover these expenses.
Certified Six Sigma Black Belt (CSSBB)
The next certification to earn on your Six Sigma journey is CSSBB, also known as a Certified Six Sigma Black Belt. Amongst other things, these folks are paid well and their jobs come with challenges-smart people!
Not everyone can complete the Certified Six Sigma Black Belt exam. If you don't meet the requirements or have not yet completed the prerequisites, then feel free to take advantage of one of our lower-level certifications, such as our Certified Six Sigma Green Belt certification.
The CSSBB is recognized globally and accredited by the ASQ institute. Beyond this certification, 18 other certifications are embellished in the Body of Knowledge, three of which apply to project managers.
CSSBB certification is challenging, with a rigorous prerequisite and varying fees. Once you get your certificate, however, congrats in advance; you'll enjoy many perks including higher pay scales.
Certified Six Sigma Black Belt (CSSBB) Requirements
To be eligible to take the exam, you need two different projects completed along with 3+ years of experience.
The bad part about this certification is that it expires after three years, but retake the 18 other exams before you can take your exam again.
Certified Six Sigma Green Belt Certification
This certification is part of the other six sigma black belt certifications group. The three certificates are essential for anyone looking to be a project manager.
The Certified Six Sigma Green Belt (CSSGB) certification is accredited by the American Society for Quality. To take this exam, applicants are expected to have at least three years of experience in the project field and work full-time. Interns or part-time employees cannot apply for this certification.
Within the confines of a green belt body certification, one can do one of these very easily.
There are different phases in a Six Sigma project. You could be working on customer voice, PM basics, the identification of projects, and more. Each "phase" has specific lessons to teach you.
You will also complete process analysis and measurement of team members' abilities within projects as data is necessary when optimizing a Six Sigma setup.
Certified Six Sigma Green Belt Certification (CSSGB) Requirements
To qualify for the Six Sigma Certification exam, you must meet certain requirements. As mentioned earlier, applicants for this exam must have a minimum of 3 years of experience working as a full-time employee on Six Sigma projects and submit affidavits or contracts to that effect.
Project Management Certificate (PMC)
The PMC is part of Harvard's Professional Graduate Certificate in Project Management. This certification will provide a well-rounded understanding of the entire project management process, from beginning to end. You can acquire skills that align with those taught by professionals at PMI and obtain skills necessary for leadership. Reference: "The Best Project Management Courses for 2022 and 2023", author: Marta Cooper, 2020, https://www.policymatters.net/best-project-management-courses/
The PMC Course will teach you how to complete projects from start to finish, and help you gain the skills needed for project success. Learn about strategy for project innovation and change management too!
The following three criteria are required to get a PMC certificate:
Minimum 16 credits for graduate-level certificates
Being graded with at least a B in each class, and completing it within 3 years.
GPM-IPMA Levels A – D
GPM-IPMA certificates are those issued by the German project management association "Gesellschaft für Projektmanagement".
The GPM is a member of the International Project Management Association (IPMA). This means that GPM certifications are equivalent to certifications from other industry associations and vice versa.
GPM offers five different types of certification with the basic GPM certificate, Level A, B, and C certification, and Level D being the most popular.
The exam is comprised of both oral and written papers and may be taken in Nuremberg or onsite, but the exam must have a minimum of eight candidates.
The IPMA refers to this certification as "Certified Project Management Associate".
A certified Level D Project Management Professional qualifies for the German title: "Zertifizierte(r) Projektmanagement-Fachmann/-frau."
No specific requirements are needed to start the GPM-IPMA certification, though a passing grade is required for full certification at each level.
Questions and answers
How should I prepare for project management certifications?
Some people study for Project Management Certification Courses in-person, while others prefer to research independently.
To reap the most benefits from any range of Project Management Certificates, be sure to make an informed decision on which one is right for you.
PMI Certification tests normally contain 200 questions, but only 25 of them are spontaneous. Experts say that these types of questions define the difficulty curve of the computer-generated PMI exam(s).
Furthermore, most of the certification programs are closed book. Some institutes allow their students to have a look at their reference materials to consult during an exam, but PMI does not allow such practices.
If you are looking for a good way to start developing your project management skills, take some time to explore the various certification options that are available now. Project management certification can be daunting for beginners, but as you progress it becomes easier.
Tips for getting started on your project management certification
Consult with a professional from the industry to see which profession is best suited for your needs in the years to come. Some experts recommend ScrumMaster, Agile or Lean Business certification only when it comes down to sheer excitement factor and innovation in the business process.
Some experts recommend consulting with one of the most knowledgeable people in your field to see which certifications are best for you for years to come.
Regardless of the skill required, project managers are highly rewarded for their work with a comparable salary to CEOs and business executives.
The importance of project management certification
One of the best ways to stay competitive in your industry is to get a project management certification. Earning this credential helps you build up your resume, increase employers' interest in hiring you and earn higher salaries. It also brings more opportunities for learning how to better manage what comes next on the line.
Having a certification in project management will make you more desirable to employers. This means that, on average, you can expect a 20% salary increase. You'll learn about the latest methods in project management and this will help you manage future projects with greater latitude for success.
How long does it take to become certified as a project manager?
The amount of time it takes to get a project management certification depends on the length and complexity of your desired course.
Getting a project management certificate can take 8 to 12 weeks depending on the program, your qualifications, and how prepared you are.
The salary of the project manager
This article highlights the salaries of project managers based on factors such as experience, gender, type of company, and metro area.
A guide to project management certifications and other factors affecting salaries presents an overview of the effect that these factors may have on a project manager's salary.
The average project manager salary in the US is $116,000.
It is unclear how standard the average salary is because it changes depending on your location and industry.
Let's look at some of the factors that can affect your ability to earn money.
Work experience
When you're just starting your career, the paychecks will be smaller. Project managers with less than three years of experience earn a much lower base salary than those who have more than ten years of experience. The salary of a project manager in the industry also depends on their relevant experience. In general, the more experience that someone has in this field, the higher their pay can be.
Your role at the firm - Position
Higher-level positions come with a higher salary.
For example, a portfolio manager or program coordinator may be managing several projects at once, rather than one another individual would tackle.
In what industry do you work?
Not only will your industry impact the salary that you end up with, but it'll also affect where you can afford to live. A broader range of industries can lead to a wider range of salaries.
The industry you work in impacts your salary. As detailed by the annual salary reports from PMI, project managers working within different industries have different hourly rates.
Your self-confidence and work status as a manager
Acquiring a PMP certificate is a great way to go deeper into project management and gain skills in this area. It can also lead to more lucrative career opportunities in the field of project management.
Becoming a Certified Project Manager or BVOP Professional can increase opportunities for salary growth and knowledge. And remember, confidence is the key to success.
Individuals with PMP or BVOP certifications earn 20% more than those without the certifications.
Briefly for beginners
Project Management certifications or a certified professional are not needed for an organization. They make the difference of 10x with only their involvement.
Agile Framework adoption was a new thing in the 1960s and 1970s. Teams and organizations that weren't looking to expand unknowingly adapted to daily rituals that were later called Agile Project Management or PMP.
Today, technology and businesses have changed a lot. There are a lot of projects that need to be done, and there are not enough qualified people to do them. So it's important for people who are certified project managers to help out with the ongoing projects that need to be done.
IT Project Managers have to be certified to get a job. Certification tells employers how the skills of the IT Project Manager can help their company.
Project management certification is important because it means you have the skills needed to do the job. Without it, you are not qualified.
The average qualified project manager has gone through various training modules. One module is for projects.
A project manager can solve difficult problems and do tasks that make it easier for the business industry.
Certified IT project managers can be responsible for a lot of work. They can oversee the work that is being done by other people.
We don't expect you to know all of the words in this article. But you must get Project Management Certifications for your project.
Otherwise, your project will not be respected. It can take a long time to finish the work on the project if you are not an "accredited/recognized" person.
In the IT sector, a lot of organizations cut back after the second quarter of 2020. They have started offering project management certifications online. Most companies are hiring either an Associate or a Project Management professional that is highly skilled.
When an organization does not have enough money, it cannot do the things it needs to do. The people who work there will not be able to finish their jobs. They will not be happy because they cannot do the things they want to do.